An Interview with Paul Solarz, author of Learn Like a Pirate: Empower Your Students to Collaborate, Lead, and Succeed.
Paul Solarz has been teaching since 1999. He is a National Board Certified Educator and has been awarded numerous honors including: Top 50 Finalist for the Varkey GEMS Global Teacher Prize (like the Nobel Prize for Education), was named 2014 Educator of the Year by then Illinois Computing Educators. He earned his Master's Degree from Illinois State University in Curriculum and Instruction.
His book, Learn Like a Pirate is about:
Collaboration. Empowerment. Student Leadership. These buzz words get a lot of press, but what do they really mean for today's students? Can students really handle the responsibility of leading the class? Can they actually learn what they need to if they are working together so often? Won't all this freedom cause chaos in the classroom? Not if you're teaching them to learn like PIRATES!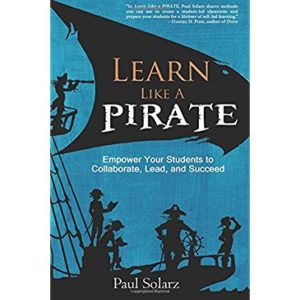 In Learn Like a PIRATE, teachers will discover practical strategies for creating a student-led classroom in which students are inspired and empowered to take charge of their learning experience. You'll learn strategies for:
- Crafting active, relevant, and interesting lessons
- Creating opportunities for student leadership
- Providing effective and beneficial feedback
- Instilling confidence so students can take risks
- Increasing curiosity and passion for learning
Incorporate the techniques and strategies Paul Solarz uses in his student-led classroom and watch your students transform into confident, collaborative leaders.
Follow Paul on Twitter at @PaulSolarz
Mentioned in this podcast:
Paul's book Learn Like a Pirate
Paul's Most Influential Book He's Ever Read is Teach Like a Pirate! by Dave Burgess
The Next Book Paul Will Read is: Lead Like a Pirate by Beth Hour and Shelley Burgess
Paul's Next Purchase: A Second Projector (It's Under $300)
Paul's Favorite App: Sown to Grow (Students Monitor Their Goals)
Kelly's new Podcast: The Future Focused Podcast
Kelly's book: Along Came a Leader
Kelly's website: www.KellyCroy.com